Velocity Pro 2 into 1 exhaust system.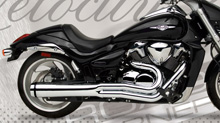 Turn your cruiser into a pro-street dragster! This is Road Burner's top of the line 2 into 1 exhaust system. Velocity's increase power thru out the RPM range. The rear head pipe use's an "S-bend"  rear pipe for increased length. The head pipes features 1 -3/4" dia. inner pipes and 2- 1/2" dia. outer pipes.
The Velocity's rear section is a true reverse cone megaphone pipe designed for maximum power. This pipe enhances power thru exhaust scavenging .The megaphone terminates into a 5" diameter outlet with a 2pc CNC machined end cap. The black "signature" middle trim ring really sets this pipe apart from the competition. This 2 into 1 is bad to the bone!
Roadburner Large Radius Pipes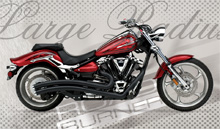 Introducing  "Large Radius" pipes by Road Burner. The large sweeping bends enhance the look of your bike with beautiful curved lines and increase the power and sound of your cruiser.
Large radius pipes feature 2.5" diameter outer pipes and either 1 - 1/2" or 1- 3/4" inner pipes depending on your model. Patented doublewall construction will keep your pipes from discoloring with Road Burner's 1 year exclusive warranty* against discoloration.